1920's Brass Boston & Maine Railroad Button on Handmade Leather Cuff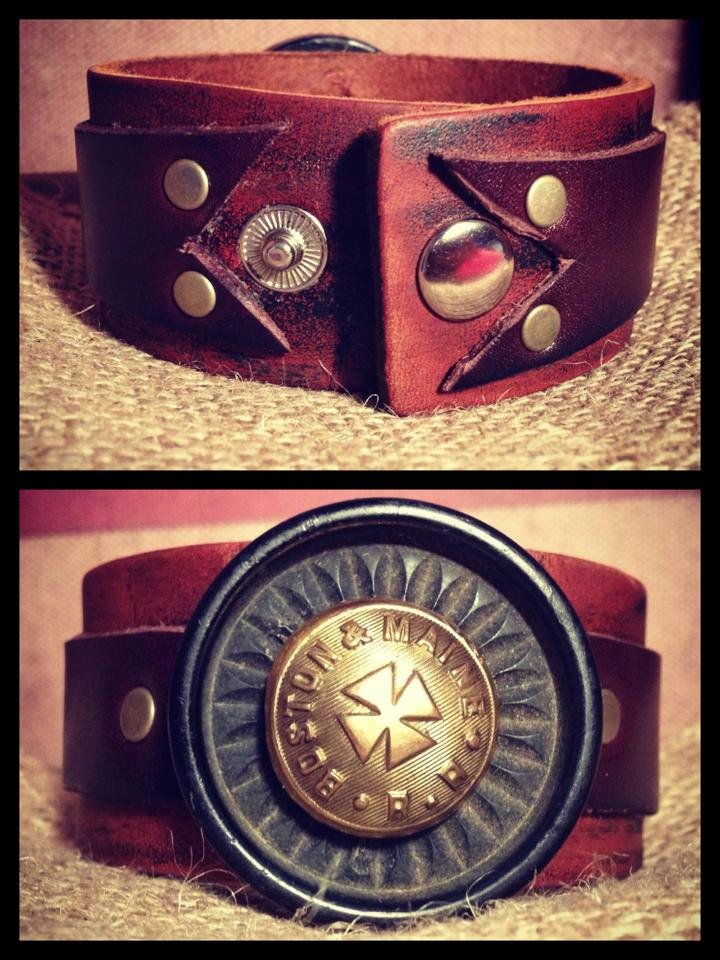 1920's Brass Boston & Maine Railroad Button on Handmade Leather Cuff
JUNE Featured sale item on sale for this month only - regularly $125 - NOW $55


LuckyGirl Eleven loves to use old travel related pieces, railroad badges, employee buttons, airline pins to create a fashion story....this latest piece is no exception.

The Boston and Maine Corporation, known as the Boston and Maine Railroad (B&M) until 1964, was the dominant railroad of the northern New England region of the United States for a century. It is now part of the Pan Am Railways network.

In the early twentieth century B&M and its controlled lines reached from Boston west to the Hudson River at Troy and Mechanicville, New York, and the Mohawk River at Rotterdam Junction; northwest to Lake Champlain at Maquam, Vermont; north to Sherbrooke and Lime Ridge, Quebec; and northeast to Vanceboro and Eastport, Maine. East of the Connecticut River, north of the B&A, and south of the Canadian border there were only two railroads of any consequence not under B&M control: the Bangor & Aroostook Railroad and the Grand Trunk Railway route from Montreal and Sherbrooke to Portland, Maine.

The Boston and Maine (B&M) grew for the most part by acquisition, not by construction. The oldest component of the B&M was the 25-mile (40 km) route between Boston and Lowell, Massachusetts, opened by the Boston & Lowell Railroad (B&L) on June 24, 1835, but not acquired until much later. The B&M's 19th century history consists of four distinct routes.

This LuckyGirl Eleven one of a kind cuff features a large brass 1920's Boston & Maine Railroad button mounted on large black sunburst Bakelite button we've created not only a pleasing aesthetic but a great homage to an old railroad. The 1.5" wide distressed brown leather cuff with deep chocolate leather attached with antiqued bronze rivets is adjustable to fit between 7.75-8.75" writst. The thick saddle leather allows for the cuff to alos look quite good worn big (by a woman) as a bangle style or fits a man's wrist nicely.

Who doesn't love a good railroad story...